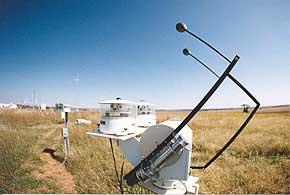 The multifilter radiometer (MFR) is simply the head from a multifilter rotating shadowband radiometer (MFRSR) mounted on a tower pointing at the surface. Like the MFRSR, it has six narrowband channels (415, 500, 615, 673, 870, and 940 nm) and one broadband channel. Pointing the head at the surface provides spectral measurements of reflected irradiance. Measurements are taken every 20 seconds. No averaging is performed.
From such measurements, one may infer the atmosphere's aerosol optical depth at each wavelength. In turn, these optical depths may be used to derive information about the column abundances of ozone and water vapor (Michalsky et al. 1995), as well as aerosol (Harrison and Michalsky 1994) and other atmospheric constituents
This instrument encompasses the MFR10M, MFR25M, and MFR3M datastreams.
For more information see MFR.
10M
The upwelling hemispheric broadband will flag overnight at times. The valid_min is set to 0 and with instrument noise, the reported values may be below 0. This is normal and does not need to be reported.
25M
This is the same as the 10M, but the upwelling hemispheric broadband variable does not flag as much overnight.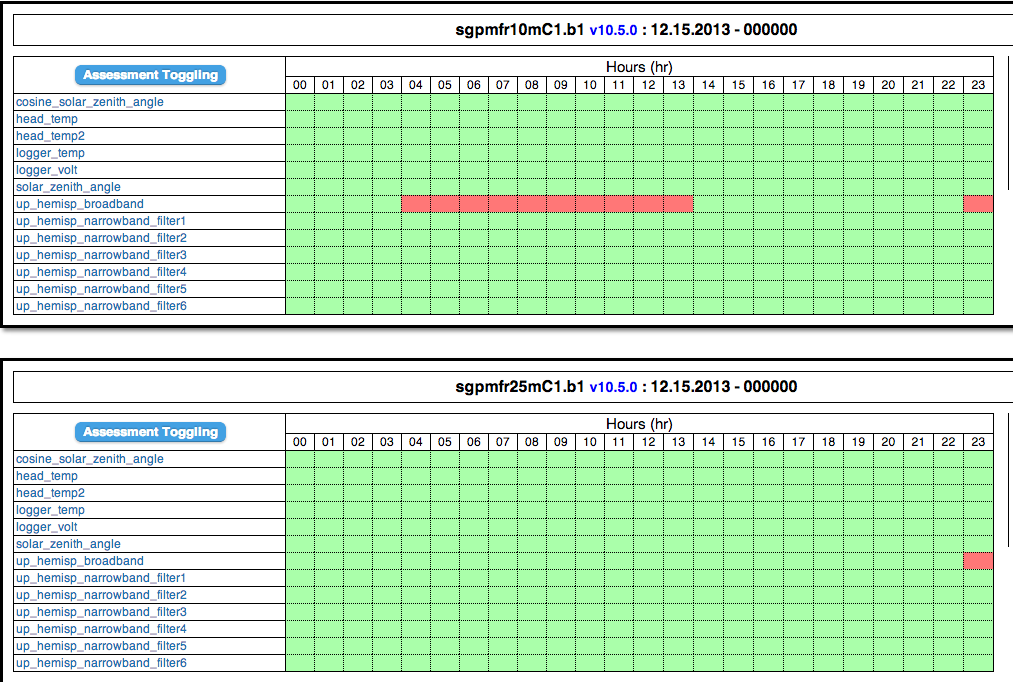 Narrowband Upwelling
This plot shows the 6 filters for visible (4) and infrared (2). These should follow a smooth curve on sunny days, but be a little noisy on cloudy days (2nd plot below).


Broadband
This is a plot of the broadband hemispheric radiation along with a plot of the logger voltage and the detector temperature. The broadband should follow a similar trend as the narrowband data.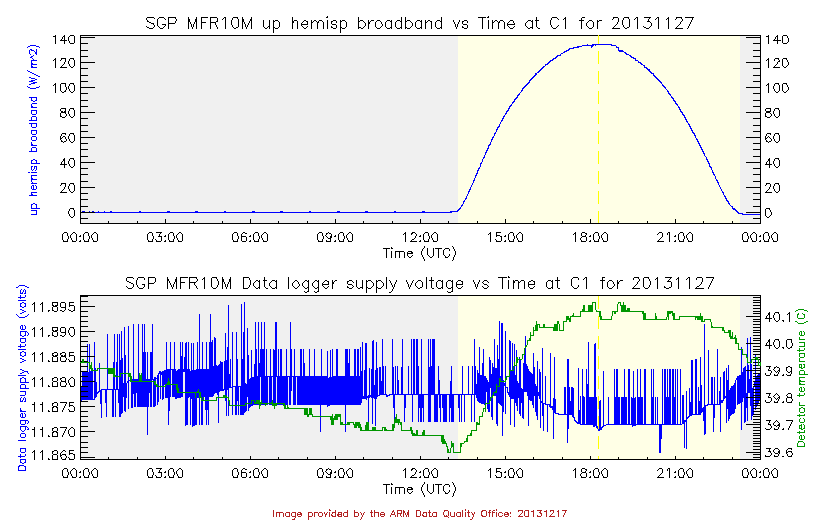 Broadband Week
A single plot of the upwelling hemispheric broadband radiation over 7 days.

Narrowband Week
A single plot of the upwelling hemispheric narrowband radiation over 7 days.

MFR Comparison - SGP
This is a comparison plot of the MFR at 25m and 10m at SGP. The data should trend similarly but will be off in value a little bit.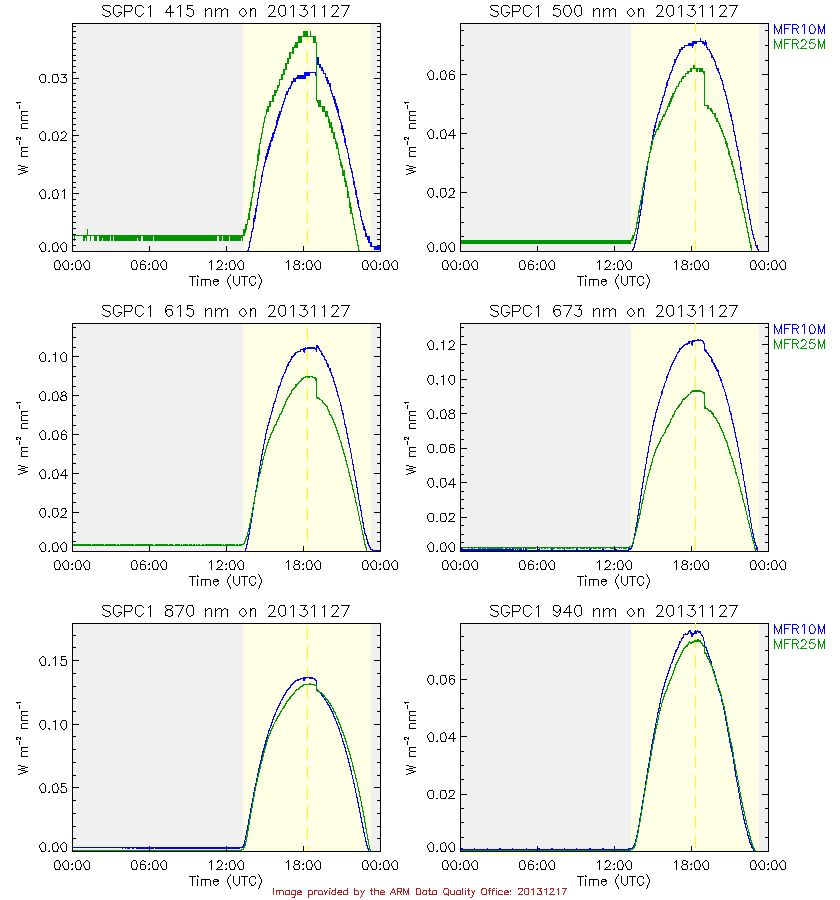 Upwelling Hemispheric Broadband
This is a comparison of all the instruments at a site that measures upwelling hemispheric broadband irradiances. These instruments include (MFR*, SIRS, GNDRAD60s, BRS)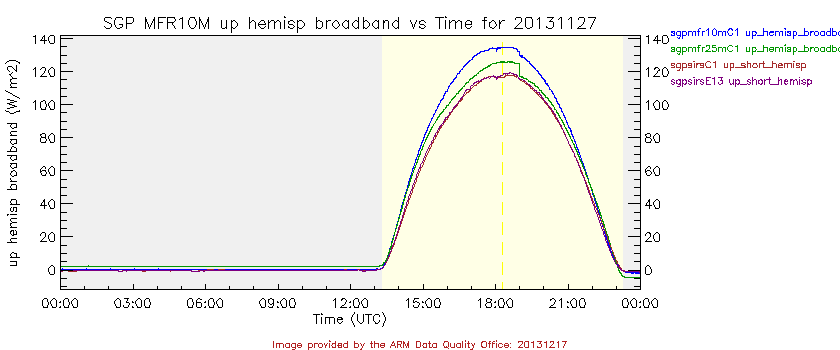 This instrument is located at SGP, NSA, and AMF3.
Known issues for this instrument that MAY NOT need to be mentioned in your DQA's:
Narrowband Step
Shortly after solar noon, the narrowband irradiances jump a little, most notable on a clear day. This was an issue with the MFRSR, but it was determined to be a processing issue. At the moment, this is not considered a problem.


Past problems for this instrument that DO need to be mentioned in your DQA's and possibly requiring a DQPR submittal:
The all-zeroes problem
Occasionally, the MFRs report all zeroes for their measurements. Typically, this problem is related to a degraded head temperature circuit or a bad data logger. This problem is quite obvious (a figure is not shown) since all of the readings report 0 constantly.
Ingest Problems
Quite often, especially with the NSA datastreams, ingest will read data from the logger incorrectly. Normally, this is observed as a "switch" of datastreams. For example, the 940 nm channel will frequently be switched with the head temperature (This is the most frequent ingest problem noted since 2002). What results is that the 940 nm channel appears to have readings similar to head temperature readings and vice versa. The quality of the instrument is OK; the ingest is the problem. Unfortunately, no examples can be shown of this since data is reprocessed correcting ingest errors (which is fortunate, except for documentation purposes). Be wary of this, especially when MFRs are reinstalled at NSA.
Noisy Channel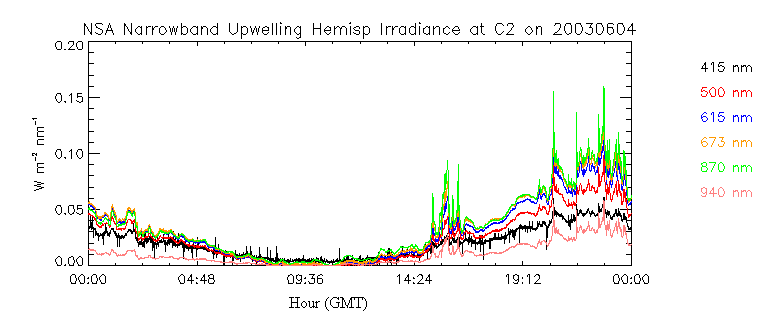 Ingest Sudden Change Causes Sudden Problem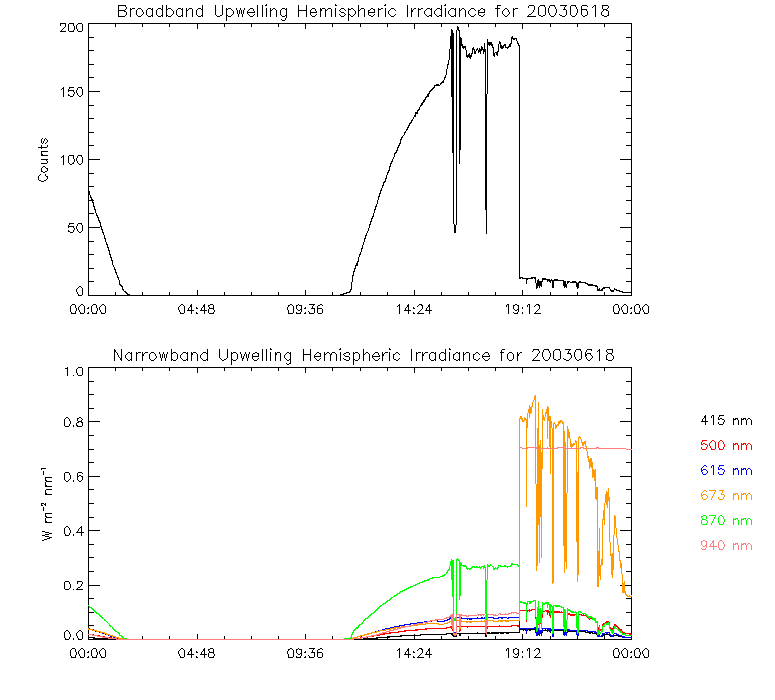 Discontinuity Between Channel Spike Direction

Shading Instrument With Support Structure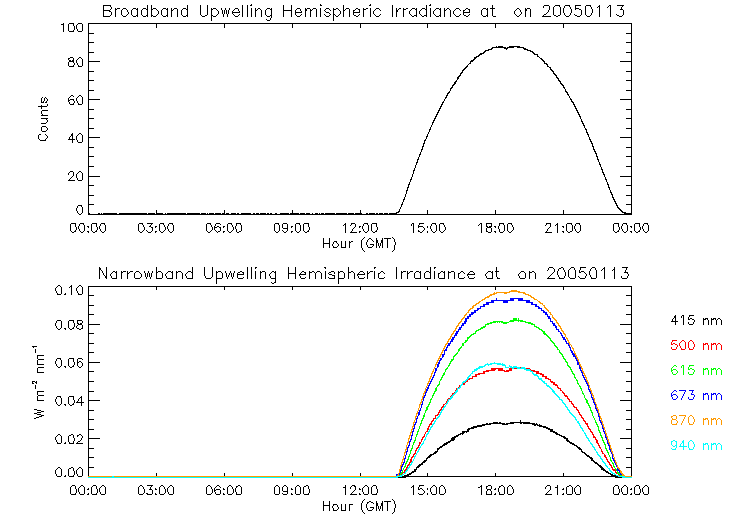 Sun "obstructions"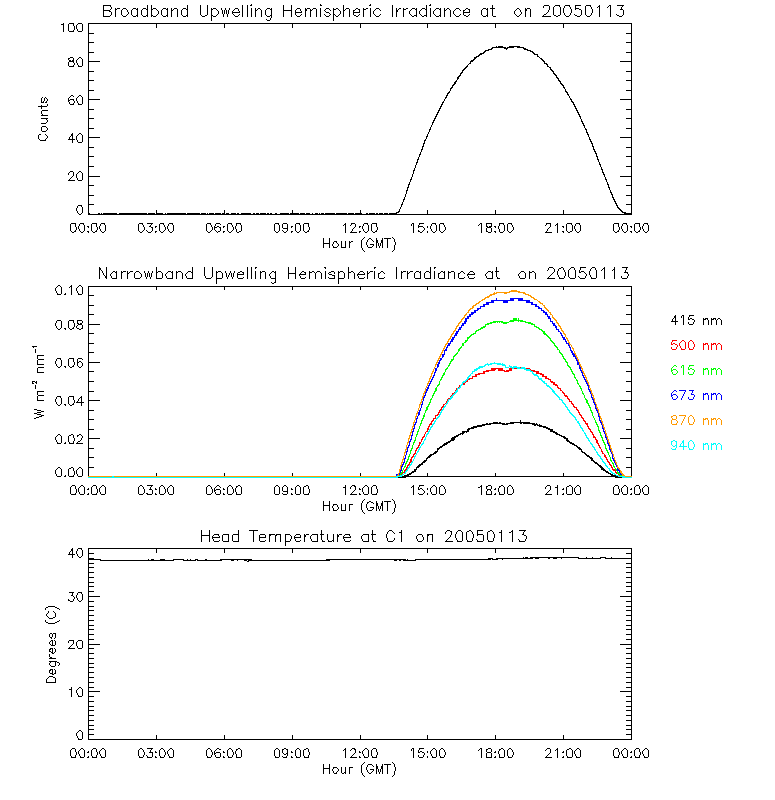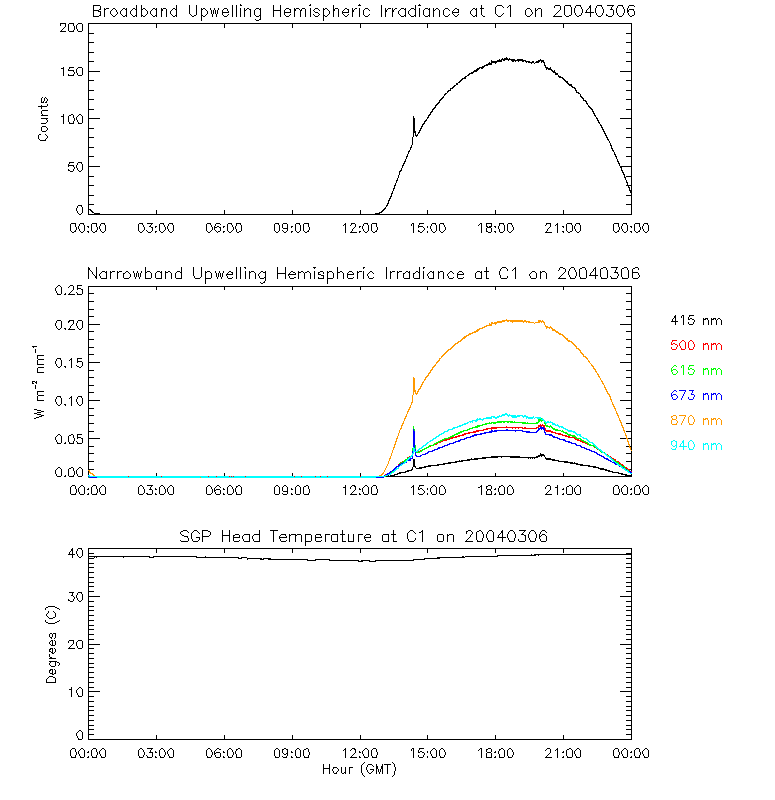 Skewed Shape