The SBES consists of upwelling and downwelling solar and infrared radiometers with a net radiometer, a wetness sensor and soil measurements. This allows the SEBS to be compared with the ECOR. The sampling rate is 30 minutes.
The SEBS is sort of an addition to the co-located ECORS to make it similar to the EBBR systems. Much of the variables associated with the SEBS can be found under the EBBR page. The SEBS ARM instrument page can be found here.
Downwelling Shortwave Hemispheric Irradiance

Sky Longwave Irradiance

Net Radiation
NOTE: The net radiation and surface energy balance should diverge more during the day and early evening than at night.

Albedo
Albedo has to do with the reflectivity of a surface. It should be fall within the ranges in the table below, at night it is meaningless.
| | | |
| --- | --- | --- |
| SGP (day) | NSA (day) | TWP (day) |
| Summer: 0.2-0.3 | Summer: TBD | Summer: TBD |
| Winter: TBD | Winter: 0.7-0.9 | Winter: TBD |
Wetness
Same for all Sites
| | |
| --- | --- |
| Wetness Range | Meaning |
| 2.9-3.0 | Sensor is Dry |
| 2.5-2.8 | Start or end of Dew/Frost |
| 1.1-2.4 | Heavy Dew/Frost |
| 1 | Sensor is fully Wet |

Net Radiometer Temperature and Battery Voltage Plots
These plots are diagnostic plots. Battery voltages below 10.5 V will give bad values.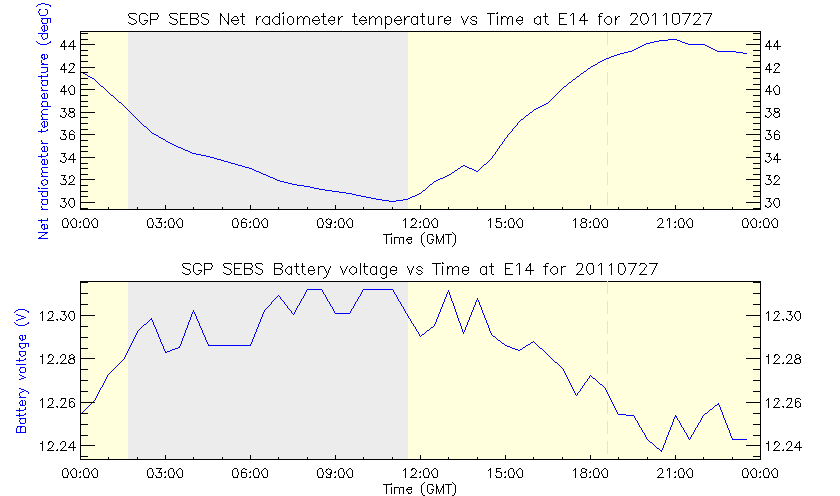 Soil Measurements
These plots include 3 different sensors set at the same depth. They should all trend together within reason. The measurements include:
Surface Soil Heat Flux
Soil Heat Flow
Corrected Soil Heat Flow - Corrected for Soil Moisture
Soil Heat Capacity - Will flatline at 1.082 MJ/M3/C if the soil moisture is flatline.
Energy Storage
Soil Temperature
Soil Moisture - Lowest amount the sensor can measure is ~5%. Once it gets down to this, the values will flatline. Soil probe measurements will also typically not be correct when soil is frozen or the soil temperature is below zero C.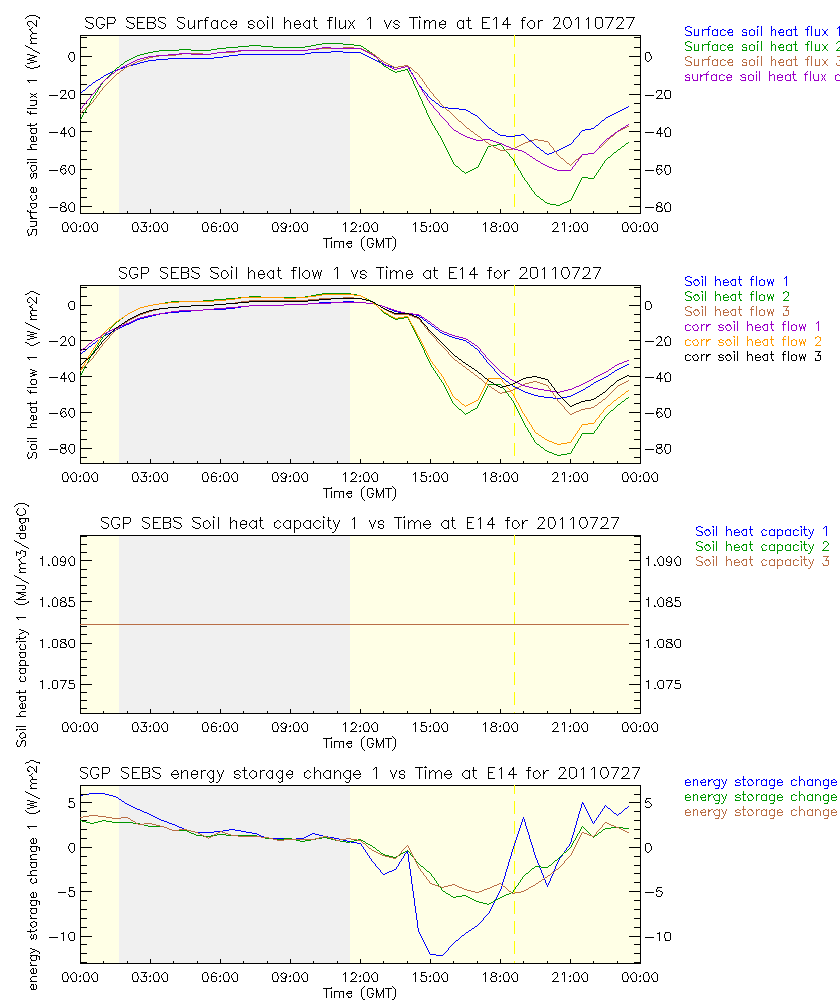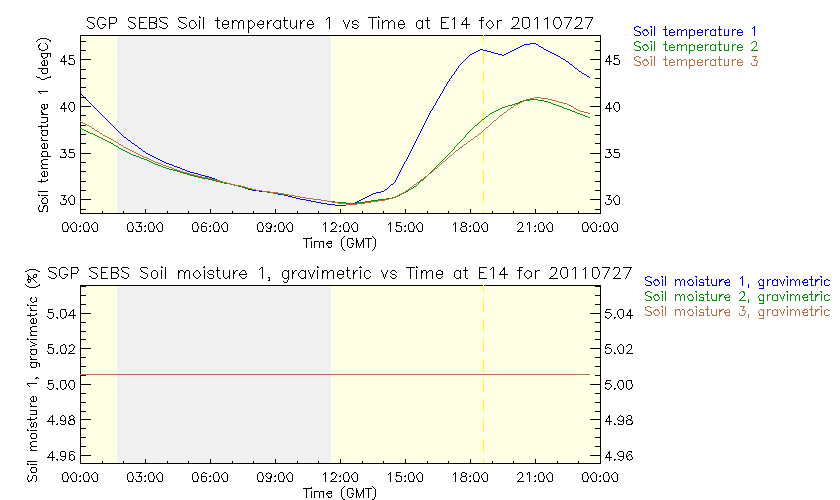 During times of drought, particularity at the SGP site, the soil moisture variables may act suspiciously or not trend together. It is best to wait for a precipitation event to see how they respond before issuing a DQPR.
---
When it is a particularly clear day at the EPCM1 SEBS site, it is not unusual to get this large spike in the albedo, followed by a sudden drop. 15:00 UTC is 7am Pacific, which means the sun is very low on the horizon and as a result the albedo is going to be fairly high. The EPCAPE Instruments are located on a pier off the coast of California and high albedo values in the morning should not be of any concern.